[Home] [Catalog of Products] [Where to Start] [Bonding Systems] [Chip Floors] [Chemical Resistant Coatings ]
[Chemical Resistant Misc] [Coatings] [Conductive] [Applications] [Elastomeric Polyurethane Systems] [High Temperature]
[Industrial Floors] [Injection] [Joint Systems & Sealants] [Mortars / Grouts] [Novolac Epoxy] [Polymer Systems]
[Primers Sealers] [Misc.] [Seamless Flooring] [Waterproofing] [Dealers Wanted] [Installation Tips]
[Product Guide] [Wood Filler] [Who We Are] [FAQs] [Guest Book] [Guide Specs]
[Tech Data Sheets in Acrobat Format] [MSDS in Acrobat Format] [Online Ordering Authorization Form]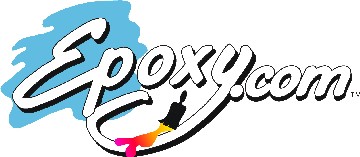 We have over

300 products

.


These products can be used in combination to produce a multitude of systems. If you don't find it here contact Epoxy.com Technical Support Department. We might need to make a custom system or product for you.

The Technical Support and Development of Our Products are Backed with Decades of Field Experience!

Epoxy.com is the Products Division of Epoxy Systems, Inc. of Florida and Vermont.
Look for our logo on every product label.

Here is the fast track to navigating our site:
Catalog of Products listed by Product number and a brief description. Browse through our products by product number and name. See what kind of things each product can be used for.

This link leads to a comprehensive list of our Products!

Frequently Updated!

If you prefer the help of a human to help you search for your product, contact Epoxy.com Technical Support Department.

Products

listed by application

type

s. Find your application first and find a list of the products which can be used for this kind of application.
Table of Contents for the pages of Epoxy.com. This is a quick way to see a list of all the pages on this site.

It is automatically updated each time we add a file to this website. Because it is automatically updated this area has the disadvantage of not being as well organized as pages produced by human hand. However, the

Table of Contents page is always the most accurate and up to date listing of the pages on this website.

New

Secure Login - Take advantage of our new secure socket layer (SSL) by logging into this site securely.

New

Epoxy.com/wireless - Putting some of our most important information available to your web enabled Wireless Phone. Let us know what information is most important for us to have here.

Click the thumbnail pictures below to enlarge them.

Here are some links to our most popular pages: